Technology
Digital Dental X-Ray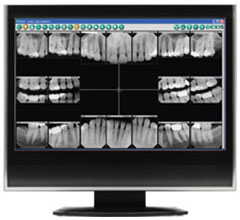 Dental X-rays have come a long way. Todays dental X-rays are safer, faster, more comfortable and more informative than the X-rays of years past. Digital X-rays, one of the latest and most advanced dental technologies, produce high-quality images of your teeth that can be viewed instantly by you and your dentist on a LCD monitor. Digital X-rays reduce radiation by up to 90% and provide exceptional diagnostic information to ensure that potential problems are caught in their earliest stages. Intraoral photography is another alternative to traditional dental X-rays. With intraoral photography, problems such as cavities, fractures and discolorations in the teeth are captured through clear and sharp photographic images that are taken with a 35mm or digital camera.
Intraoral Camera
In a nutshell, an intraoral camera is a small video camera that takes an X-ray of the outside of the gum or tooth. The intraoral camera resembles an oversized pen and although usage varies depending on the model-type, this image-taking device is typically outfitted with a disposable protective sheath for each new patient. While simultaneously viewing a monitor, the dentist inserts the camera into a patient's mouth and gently shifts it about so that images can be taken from a variety of angles. 
Laser Surgery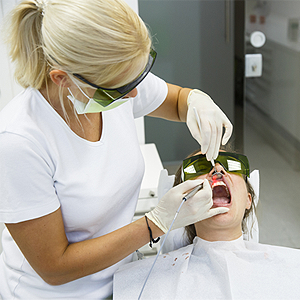 An exciting new form of dental technology is changing the way dentists -- and patients -- view dentistry. You may be aware of the use of lasers in cosmetic dentistry, but laser dentistry is also enhancing many types of dental surgery for your comfort and convenience!
Dental laser surgery uses a beam of intense light to correct your dental problems. The energy produced by the laser actually "cuts" away or vaporizes the tissue it is concentrated on. Dental lasers remove bacteria and infection then cleanse the area in preparation for the restoration -- usually in less time and with less irritation than a dental drill. Laser surgery often means less discomfort, an easier recovery and fewer or shorter appointments than most conventional dental treatments. 
Rotary Endodontics
Originally developed for military purposes, advanced nickel-titanium alloy has found a place in dentistry. Flexible nickel-titanium rotary files are now used to increase the quality of root canals, allowing a dentist or endodontist to accurately follow the shape of the root canal itself. Using a passive, non-cutting tip, nickel-titanium rotary files gently remove the infected inner tooth (the pulp) and generally result in more precise and less painful root canals.
Electrosurgery
Our office has had an electrosurgery unit for several years. Electrosurgery is the application of a high-frequency electric current to biologic tissue as a means to cut, coagulate, desiccate, or fulgurate tissue. Its benefits include the ability to make precise cuts with limited bleeding. Electrosurgery is used for soft tissue surgery, including troughing, gingivectomies, frenectomies, and exposing implants, teeth, or orthodontic brackets. With electrosurgery, our dentists can provide you with a more efficient, more precise treatment that helps to improve your smile's health with minimal bleeding and discomfort.
We welcome you to contact our dental team today at General Dentistry of Cape Cod, PC in Hyannis, Massachusetts, for more information about the benefits of electrosurgery. Our knowledgeable team will also be happy to answer any questions you may have about the other kinds of state-of-the-art dental technology we use at our office. Call us today to learn more and to set up your next appointment with Dr. Uzpurvis and Dr. Booth!