Cosmetic Dentistry
At General Dentistry of Cape Cod, PC in Hyannis, Massachusetts, we understand that having a smile that is attractive as well as healthy is important to your self-confidence. A beautiful smile is a great asset to have, and enhancing your smile can improve your overall appearance. Dr. Uzpurvis and Dr. Booth are dedicated to helping you reach all of your goals for your smile, including a variety of cosmetic dentistry to help you achieve the smile of your dreams. Our cosmetic dental services include the following:
Dental Bonding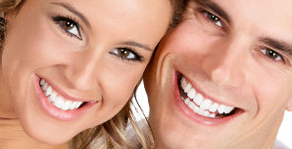 Fixing a chipped tooth, cracked tooth or a gap in your teeth is fast, easy and affordable with dental bonding. Dental bonding can also be used to improve the appearance of slightly discolored teeth and to change the shape of teeth, but it is typically recommended only for small cosmetic changes. Unlike other cosmetic treatments, dental bonding can be performed with little to no advance preparation. Dental bonding is also convenient and durable, taking just 30-60 minutes per tooth and lasting from 3-10 years.
Inlays and Onlays
Dental inlays and onlays are the same kind of restoration, but they cover different proportions of the tooth. A dental inlay fills the space in between the cusps, or rounded edges, at the center of the tooth's surface. The dental onlay works like an inlay but covers one or more cusps or the entire biting surface of the tooth. Because of their extensive coverage, dental onlays are sometimes referred to as "partial crowns." 
Dental onlays are more durable and usually last longer than dental fillings but, like any restoration, can still weaken the tooth's structure. The size of the filling and type of material you choose can help determine the life of your restoration. Depending on your budget and aesthetic needs, dental onlays can be made from gold, composite resin or porcelain.
If cared for properly, a dental onlay can last up to 30 years! Your best bet for preserving the life of any dental restoration is practicing excellent oral hygiene. Brushing, flossing and visiting the dentist regularly will have a significant outcome on the success of your dental onlay procedure. 
Clear Correct®
ClearCorrect "invisible" braces are a simple, easy alternative to metal braces. ClearCorrect requires no uncomfortable wires or brackets, and it allows you to go about your normal routine without the self-consciousness brought about by conventional metal braces. With ClearCorrect, your dentist or orthodontist can straighten your teeth using a series of virtually invisible, removable aligners. Each custom aligner moves your teeth a small amount at a time until you eventually get straight teeth.
Before & After Clear Correct®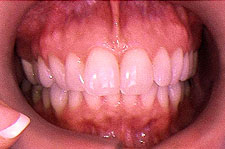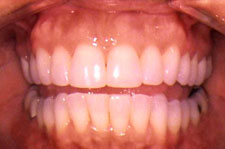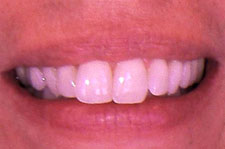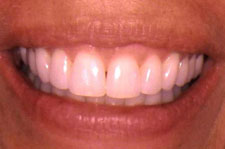 Teeth Whitening
Have you noticed that your pearly whites are not quite as pearly or white as they used to be? Over time many factors can play a role in tooth discoloration. Though some steps can be taken to minimize further staining, you may want to get a little extra help from our dentists or use an over-the-counter teeth whitening product.
Most tooth discoloration and staining happens as we age and the enamel surface of our teeth weakens. Years of chewing and general use can cause your tooth enamel to become thin and crack, allowing staining agents to stick to your teeth.
The types of food and beverages you consume, smoking, bruxism and trauma can all contribute to tooth discoloration. By modifying some of these habits you may be able to limit future staining, but the only way to actually get rid of stains and brighten teeth is to speak with us about using teeth whitening dental products.
Porcelain Veneers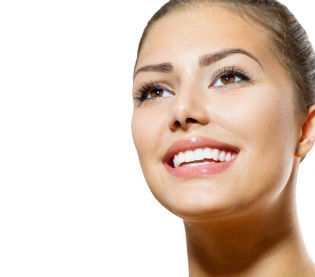 Years ago, smile makeovers involved multiple dental treatments over a period of several months. That's no longer the case, thanks to porcelain veneers. Porcelain veneers are ultra thin shells made of translucent porcelain that can be bonded to your teeth for cosmetic purposes. Extremely versatile and durable, porcelain veneers are an excellent option whether you want a total smile makeover or need to cover a chipped tooth, mask a cracked tooth, or close gaps between your teeth. They require little to no prepping and can often be applied in just one dental visit!